Health Guide
Carbon Monoxide is a gas that is released when fuels are burned.  Carbon monoxide gas is produced when we operate common home appliances using gas and heating oil. These appliances include heating furnaces, clothes dryers, water heaters, ovens and ranges.  As we utilize these items they produce a toxic gas that replaces the oxygen in the room.  As the concentration of carbon monoxide in the air increases it becomes dangerous and possibly deadly.  These appliances must be well vented so that carbon monoxide does not build up and creates these lethal situations. Carbon monoxide pollution which is very dangerous to human being. These are poisonous gases which is odourless as well as colourless and hence we don't notice it even if it is present in our surrounding. You can buy a good carbon monoxide alarm that can detect and notify you if carbon monoxide is present in your house or surrounding. We will discuss more about carbon monoxide detector later in this article.
What You Should Know about Carbon Monoxide and Your Health
There are a multitude of dangers associated with carbon monoxide, some of which are short term problems and some of which are permanently damaging and even fatal. The destructive nature of carbon monoxide gas is that it prevents oxygen from being delivered to the brain cells and other vital organs of the body. If cells do not receive their necessary supply of oxygen, which is delivered by the hemoglobin and is a component part of our red blood cells, the cells will die. Carbon monoxide molecules are 200 times more likely to bind to hemoglobin than are oxygen molecules. When breathed in, carbon monoxide enters the bloodstream and binds to hemoglobin and crowds out the oxygen molecules. This deprives the cells of the oxygen they need in order to maintain their vitality. Additionally, the iron atoms that are embedded in the hemoglobin molecule will hold onto any residual oxygen more tightly if carbon monoxide is present which results in less oxygen being delivered to the cells and tissue. This causes cells to die.
The disastrous consequences are…
Brain cells do not regenerate. The brain is dependent upon a constant supply of oxygen and therefore vulnerable to permanent damage when deprived of oxygen. The areas of the brain that can be permanently damaged by carbon monoxide inhalation include: the deep white matter structures; the deep gray matter structures; and the hippocampus — all of which are critical structures that regulate a person's learning, memory, cognitive and emotional functioning and movement. When the brain is damaged in these affected areas of the brain, thoughts, behaviors, emotions, moods, responses, personality and coordination can change, either subtlety or significantly.
When inhaled, not all carbon monoxide attached to red blood cells. A small amount can also travel in blood plasma and cause cell damage without ever binding to hemoglobin or showing up in a blood test. This free floating carbon monoxide in the bloodstream can trigger cell death of the lining of the heart and blood vessels. Separate from the effects of oxygen deprivation, carbon monoxide can cause direct damage to the heart muscle which in turn reduces the heart's pumping capacity and permanently impairs cardiac function. Heart damage caused by carbon monoxide may have long-lasting effects even after it has been eliminated from the blood – making the diagnosis of carbon monoxide poisoning even more critical.
Symptoms of Carbon Monoxide Poisoning
The specifics of your medical problems will vary depending on how much carbon monoxide exposure you suffer and how much oxygen your body is able to get. Chronic exposure to low levels of carbon monoxide can cause:
Depression;
Memory loss; and
Confusion.
Acute exposure can cause symptoms including:
Confusion;
Vertigo;
A feeling of being lightheaded;
Sensations resembling the flu;
Seizures;
Damage your nervous system and heart;
Coma; or even
Death.
What are Carbon Monoxide Alarm
Carbon Monoxide Detectors are designed to recognize when the concentration of carbon monoxide vs oxygen, in the designated area, is becoming to toxic.  The detector will go off with a siren, or a high pitch high decibel whistle.  This is a warning for you and your family to get out of the room, or house, before the deadly gas has an adverse effect on your family.
Although carbon monoxide is produced year round, accidents are more common during the winter months because of the increased use of propane heaters, kerosene space heaters, and natural gas home furnaces.  When the temperature outside drops we tend to close all the windows and seal off any drafty leaks.  This, effectively, seals up our homes and does not allow for proper ventilation of carbon monoxide gases.  So, it is important that you use carbon monoxide detectors in your home or office during the winter months.  If you already have these detectors in your home and they are operated by batteries then you should regularly test the batteries for freshness.
Why You Should Buy Carbon Monoxide Alarm
Carbon monoxide (CO) is a very poisonous gas and continuous inhalation may even choke you to death. CO detectors are the best way to keep you and your family from inhaling the poisonous gas since the toxin is invisible and odorless emitted through appliances found in your kitchen. The major benefit of having a carbon dioxide alarm is that it will alert you when carbon monoxide is present and at its most lethal, as in a confined space such as a bedroom or living room with the doors and windows shut tight. Essentially Carbon Monoxide detectors are smoke detectors that work as smoke alarms and Carbon Monoxide detectors. It is an odorless, invisible, and extremely dangerous gas, which can be given off by the most common appliances in your home or workplace.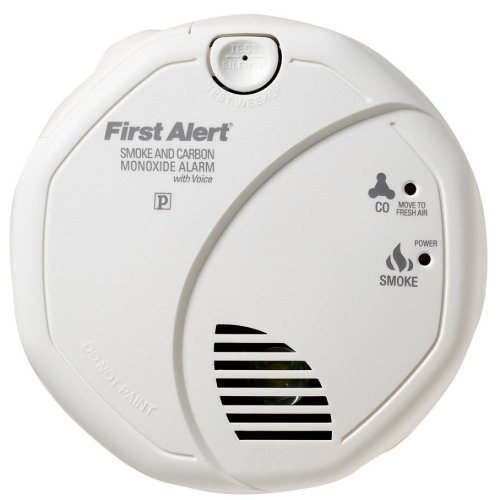 Detectors, particularly those with electrochemical sensing technology, will notify you if CO levels in your home have risen to threatening heights. If a detector has been fitted, an alarm sounds warning of the presence of this lethal gas. Carbon Monoxide is known as the silent killer in both homes and commercial properties. You can find information that offers protection and prevention through our selection of carbon monoxide alarms. The display on a digital carbon dioxide detector shows the concentration of CO in parts per million.
Additional detectors such as the USI Electric Hardwired 2-in-1 Carbon Monoxide and Natural Gas Smart Alarm with Battery Backup provides double the protection with a single installation. Any time the detectors identify any accumulation of carbon monoxide; it will trigger its alarm. To prevent false alarms, avoid installing CO detectors directly next to your furnace or any other fuel-burning appliances. Some models even feature a continuous stock ticker-like readout of the current level. This dual-sensing alarm protects against two deadly household threats: carbon monoxide and natural gas. (more…)